26) Making of Eurocopter 725
Modellazione 3dsmax
Corso 3ds max Making Of Eurocopter 725
------------------------------------------------------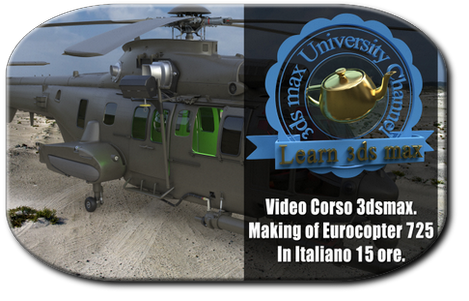 Corso
Making of Eurocopter 725 3ds max Modellazione Avanzata
.
In questo corso studieremo
le fasi di creazione di un Modello 3D professionale, realizzato in 3ds max.
Il video corso è composto da 90 lezioni, ha una durata di 15 ore, in lingua italiana compatibile in 3ds max.
Argomenti:
In questo corso studieremo i procedimenti di Modellazione, Mapping, Rendering ed Animazione del modello 3d Eurocopter 725 realizzato in 3ds max.
Questo corso è indicato per chi ha la necessità di apprendere trucchi e procedimenti di modellazione, mapping render e animazione, riferiti ad un progetto molto complesso.
Essendo un Making of avrete la possibilità di osservare l'autore illustrare le fasi più importanti del progetto tramite video lezioni e ripercorrere le fasi del progetto.
Il corso illustra in 15 ore le impostazioni del progetto, per passare poi alla ricerca dei contenuti di riferimento, alle varie fasi di modellazione, alla creazione delle coordinate di mapping e sua gestione tramite nuovi modificatori e script per la gestione dei gruppi di Uv, alle impostazioni di illuminazione, impostazioni di rendering, impostazioni della fotocamera gestione dei materiali, analisi delle parentele tra oggetti, modificatori di animazione, animazione degli oggetti e gestione elementi ausiliari, montaggio animazione e gestione frame.
Nota: essendo un Making of non sono contenuti i file di esercizio, per gli utenti che necessitano di studiare il modello 3D di alto valore, sarà incluso nella sola versione disponibile in Download su CGtrader.com
Puoi trovare questo corso nelle seguenti pubblicazioni:

Corsi Singoli in Download:
Corsi Singoli
Udemy Streaming:
Guarda alcune lezioni contenute nel corso.
Lezione:
019 Finestra Booleana
Lezione:
043 Analisi Tubi Flessibili